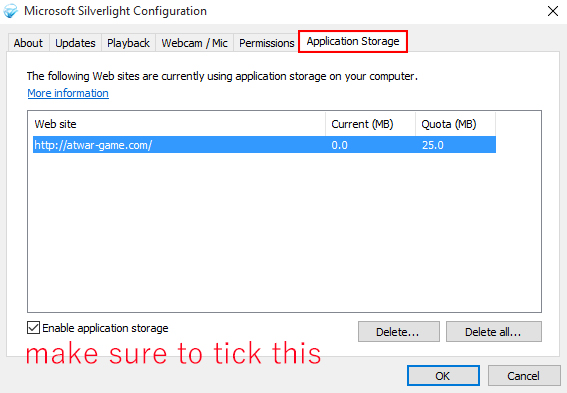 Silverlight is no longer supported in Chrome and Edge, you will need to use another browser for the Map editor.
You can also try running it in another browser or
download
and install on desktop.
If you get black screen when entering, your anti-virus software is a likely reason (Avast, in particular). In Avast, go to Avast Settings and enter in Global Exclusions the url http://atwar-game.com* (with the asterisk at the end). This should solve it!
If it worked for you before but not anymore, try cleaning the Silverlight cache - right mouse click anywhere, "Silverlight" and then "Application Storage" tab. Delete the one for atwar-game.com, then refresh the page in your browser.
The game also wouldn't work in private/incognito mode in Chrome and Safari (and possibly other browsers), so make sure you open the game in regular mode.
It also might be that the Silverlight storage is not enabled - right click on the application, "Silverlight" and then "Application Storage" tab. Make sure "Enable application storage" box is ticked.